Frozen Hearts: The Importance of Breaking the Ice about LGBT Life
"Frozen is Disney's most progressive movie yet!"
When I read this status on one of my FaceBook friend's wall, I knew I had to see this movie!  I was so intrigued by the rumors floating around the internet about Frozen being Disney's first ostensibly feminist film.  So over Christmas break, I was thrilled when my mom and aunt suggested we take my siblings and cousins to see it in the theater.  Although I was truly interested, part of me was still skeptical whether a 'children's' animated feature would be substantive enough to really withstand my critical disposition.  Boy, was I ever bowled over!  I laughed.  I cried…really cried.  And I thought deeply.
Face-value, this film is quite masterfully done.  The animation is beautiful and fresh.  The music is immediately memorable, a match for all those great, classic Disney tunes.  And even without keeping an eye (and heart) out for metaphor and deeper meanings, the story arc is touching, relevant, and convincing.  Perhaps the story is so persuasive because the characters are realistic and the dialogues are relatable.
What really caught me about the movie, though, was my shock that I recognized the story in my own life!  "Frozen" seemed to be about my own life as a gay person!  My interpretation seemed to fit the movie so well that I was convinced that I had understood the meaning of the movie.  I was shocked and almost angry to find out that my family 'missed the message.'  How could we have watched the same movie, and yet they totally don't get what it's all about! I thought to myself.  I stewed and steamed over it, trying to convince everyone that my interpretation was correct.  Eventually, of course, I realized I was being silly.  One of the real strengths of "Frozen" is that it is relatable to almost everyone, even across a wide variety of personal experiences.  I had, of course, fit it to my experiences, but that didn't mean that I had a monopoly on meaning.
Still though, I thought that I was on to something, that the material lent itself towards gay experience. I convinced a couple of my best friends, both of whom are also gay and in their mid-20's, to go see it in the theater.  (Thankfully I have awesome friends who are not above going to see a Disney movie!)
One of my friends immediately saw exactly what I saw: He also thought that "Frozen" applied very well to the struggles that many gay people find in their relationships both with family members and society broadly.  It's not just me, I thought. Whew!
So I want to share here a few of my observations about the movie.
Why can't I free your doubtful mind and melt your cold, cold heart?
After an opening sequence that shows off Disney's technical mastery, both visually and aurally, the narrative opens with two sisters, Elsa and her younger sister Anna, Scandinavian princesses.  Anna can't sleep and wants to play, so she entices Elsa out of bed with the question, "Do you wanna build a snowman?" The sisters sneak into the grand ballroom, which Elsa transforms into an icy wonderland with her magical powers.  The fun stops abruptly when, after Elsa's powers got out of control, she accidentally strikes her sister in the head.  The king and queen take Anna to a magical troll who heals her but also takes away all of her memories of Elsa's powers.  The troll remarks that a frozen head can be persuaded, but a frozen heart is much more difficult to fix.  Elsa and her family return to the castle, and the king and queen shut the doors and keep Elsa in a room alone, not even allowing her to play with her sister.  Anna doesn't understand why she can't play with Elsa or why they have to be kept separate, so they live out their childhoods lonely and confused.
Admittedly, the analogy isn't perfect here, but what I took away from the opening is that there is something about Elsa that makes her special.  Depending on your perspective, it is either wonderful and beautiful (Anna) or dangerous and shameful (the parents).  It's a power that isn't hereditary; only one member of the family has it.  However, when the troll asked Elsa's parents whether she was born with it or cursed with it, they told him she had been born with this special trait.  Her "power" began to get stronger and more difficult to control in adolescence.  Her parents were not only worried that Elsa might harm her sister, but they were also careful to make sure that no one in the community found out.  So they kept her separated from the world.
The first time that I came home from college after coming out to my mom, I found plenty of anti-gay literature laying around the house.  There were a few books about how to raise straight children.  It broke my heart.  First of all, it seemed like mom blamed herself for my being "defective" or "wrong" in some way.  In fact, I wasn't defective.  Mom had been a great parent!  She had always supported me and loved me.  And furthermore, there is no parenting technique in the books that could have turned me straight!  I knew I was different very early on.  I had crushes on boys as early as other boys were worried about catching cooties from girls.
Why was mom so worried about her other children turning out gay?  Was she worried that her parenting would yield similar results in my younger siblings (I was the oldest)?  Worse, was she concerned that I would influence them to become gay?  This is such a popular and disgusting myth that pervades most bigoted circles, from Vladimir Putin to the Bible Belt, that gay individuals are interested in recruiting children to be gay.  Here's the truth: We couldn't care less!  We aren't pedophiles.  We fall in love with other adults.  We don't want straight children to become something they aren't any more than we want gay kids to be pressured to be straight.  I do however want anyone who is gay to feel comfortable with their own feelings and their own selves.
Parents, listen and listen closely, one of the worst things you could do is to sever your gay child from the rest of your family.  Your gay child so badly needs acceptance, or…you know….they'll freeze all of Arendelle…. (spoilers).  But in all seriousness, gay children are not dangerous.  They have a lot to contribute to a family (as much as anyone else).  The love and acceptance is needed on all sides of the equation.  Don't 'other' them.  Love them.
Elsa's parent's also sheltered her from the rest of her community.  When parents of gay children shelter them from the outside world, they are communicating to their child that they are shameful and something to be embarrassed of.  They are missing a beautiful opportunity to demonstrate love before a watching world.  They are not giving society a chance to accept their child and benefit from his or her wonderful abilities and talents.  They are teaching their children to "conceal. don't feel."  Children who are made to feel repressed, fearful, and lonely are not being giving a foothold for adult life.
Back to the movie:  Elsa and Anna's parents have died at sea.  Fast-forward in time – it is now coronation day.  Elsa has come of age and is to be crowned the next queen of Arendelle.  She is apprehensive of opening up the palace and having to be on display in front of the public.  Anna's feelings are quite the opposite.  She can't wait to be social!  She is hoping that perhaps today will be the day she meets the man of her dreams.  …and she finds what she is looking for…..kind of.  She happens upon a dashing prince, Hans, and they seem to fall in love immediately.  Elsa made it through the coronation ceremony without any problems, but when she hears that her sister intends to marry someone she has only just met, she loses her cool as ice shoots from her hands.  The coronation party is aghast at this accidental outing of her powers.  They draw back from her and call her a monster, and she runs from the scene up into the mountain, leaving a winter storm in her path.  Anna, feeling partially responsible for what has just happened, proclaims that her sister is not dangerous and runs off after her.
I can certainly relate to Elsa's fear of being outed.  Before I came out, I was careful to police every aspect of my body.  I kept a tight reign on the way I talked, the way I walked, the things I talked about.  I did everything I could to not let on that I was gay.  This usually meant that I wasn't expressing myself, I wasn't allowing myself to appear happy or comfortable in my own skin, I wasn't speaking what was on my mind, etc.  I became a crouching, frowning, tense ball of introspection.  Looking back, I don't think I fooled anyone.
And like Elsa, I think most gay people, especially here in the South, have experienced being accidentally outed – if not in full, in part.  Some secret is bound to get out some time or other.  Even seemingly innocuous secrets that we might see as tangentially linked to our sexuality.  My mom still seems sort of uncomfortable telling others that she and I watch Project Runway together.  It's a secret she keeps because she is afraid it would be a "dead giveaway."  (She is my only parent.  Hence the reason she is so prevalent in my real-world examples.)
It's also remarkable that love between siblings is often strong enough to immediately love and accept, even in the midst of an accidental outing.  Anna knew that Elsa was just her sister, the same as she had always been.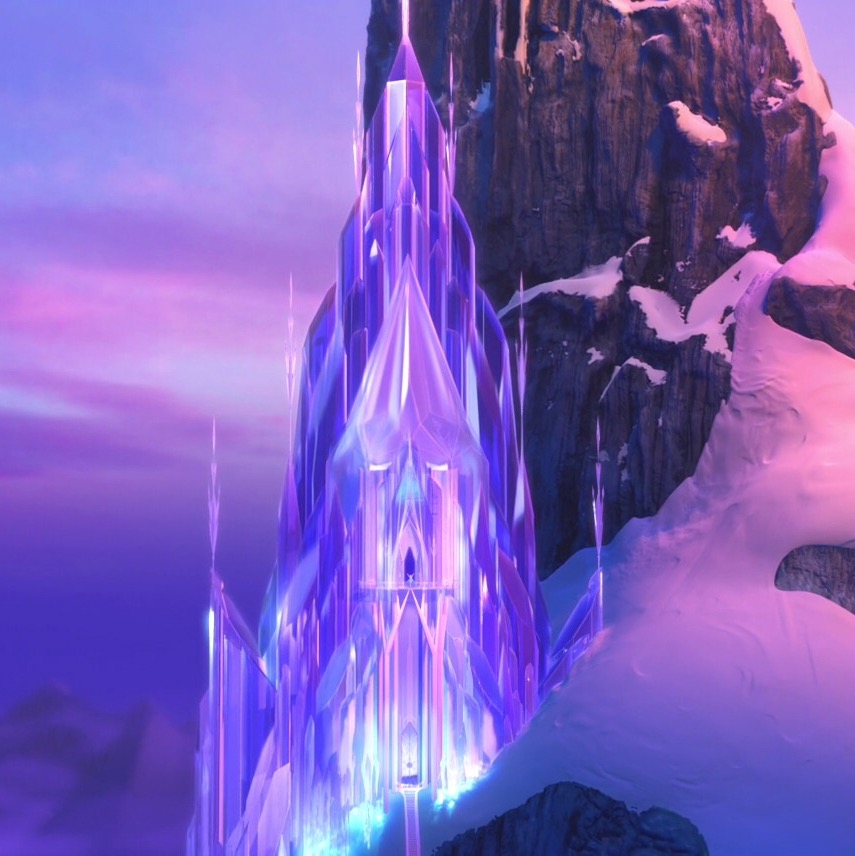 When Elsa escapes up the mountain, she decides to stay away.  She builds an ice castle and let's her hair down, both literally and figuratively.  The song she sings during this sequence is worth quoting here, in part:
THE SNOW GLOWS WHITE
ON THE MOUNTAIN TONIGHT,
NOT A FOOTPRINT TO BE SEEN.
A KINGDOM OF ISOLATION
AND IT LOOKS LIKE I'M THE QUEEN.
THE WIND IS HOWLING
LIKE THIS SWIRLING STORM INSIDE.
COULDN'T KEEP IT IN,
HEAVEN KNOWS I TRIED. . .
DON'T LET THEM IN,
DON'T LET THEM SEE,
BE THE GOOD GIRL YOU ALWAYS HAVE TO BE.
CONCEAL,
DON'T FEEL,
DON'T LET THEM KNOW.
WELL, NOW THEY KNOW.

LET IT GO. LET IT GO.
CAN'T HOLD IT BACK ANYMORE.

LET IT GO. LET IT GO.
TURN AWAY AND SLAM THE DOOR.
I DON'T CARE WHAT THEY'RE GOING TO SAY.
LET THE STORM RAGE ON.
THE COLD NEVER BOTHERED ME ANYWAY.
Need I add anything to that?  Case closed?
This is how I felt when I came to terms with my sexual orientation: Who cares what others think!  I can't control the situation anymore!  Let them think what they will, but I have to be me!  I'm not going to control myself and keep my feelings inside anymore.  The cold (i.e. being gay) never bothered me anyway – I was only looking at myself through other people's eyes.  For me, college was my ice castle.
On Anna's way to find her sister, she comes across Kristoff, who sells ice, and his reindeer Sven at a shop/sauna run by Oaken.  Oaken points out his family in the sauna – four kids and (get this) a GUY!  Yes, Disney casually included a gay family and presented it as normal.  It's not the focus.  It's not element of the plot.  It's just a family.  Thank goodness!
Anna convinces (well, tells) Kristoff to help her up the mountain to find Elsa.  In my eyes, Kristoff is pretty close to the ideal of what a feminist man should be.  He doesn't make passes at Anna, he doesn't show off his masculinity, and he doesn't try to impress her.  He simply treats her like a human being with aspirations, thoughts, and goals of her own.  He is a friend to her.  All the while, it is obvious that he is fond of her.
When they reach the ice castle, Elsa is not in a mood to welcome visitors.  She is still sore from being outcast.  She is still freshly wounded from the rejection of society.  She accidentally freezes Anna's heart: the very thing the troll had warned of earlier.  Speaking of those good ole trolls, it just so happens that Kristoff was raised by them. Kristoff takes Anna to his troll family to see if they can heal her frozen heart.
A few of my favorite lines come from the song the trolls sing:
PEOPLE DON'T REALLY CHANGE.
WE'RE ONLY SAYING THAT LOVE'S A FORCE
THAT'S POWERFUL AND STRANGE.
PEOPLE MAKE BAD CHOICES
IF THEY'RE MAD OR SCARED OR STRESSED.

BUT THROW A LITTLE LOVE THEIR WAY
AND YOU'LL BRING OUT THEIR BEST!
TRUE LOVE BRINGS OUT THE BEST!
Classic liberalism!  (Not to mention liberalism at its best.)  The message here is that people are who they are.  You can't change the core of a person, but if you give them a positive, nurturing environment, they will thrive.  I've heard people say that the evidence of the "gay lifestyle" (whatever that is) being negative, is that lgbt people are so often depressed and suicidal.  But isn't this to blame on an environment of intolerance and fear?
The trolls tell them that the cure for a frozen heart is an act of true love, which Anna interprets as a kiss from Hans and I assumed would be a kiss from Kristoff.
Wow, I've been pretty long-winded, so I'll try to wrap up soon.  (I'll skip a lot of plot details.  There are plenty of summaries on the web.  Plus, I'm kind of late to the party for writing about this.  Also, just watch the movie!)
Hans ends up being a traitor who was just trying to sabotage the kingdom.  Kristoff realizes that he loves Anna and goes back to help her.  The act of true love turns out to be Anna throwing herself in front of Elsa to save her, basically sacrificing herself for her sister.  I wanted to cheer at this point in the movie!  Sisterly love saved the day!  No men needed!  None of that chivalrous crap we are so used to.  Women can save the day and each other all by themselves.  Anna is unfrozen along with all of Arondelle.  Kristoff starts to go slug Hans, but Anna stops him and says, "Let me."  SHE lands the punch!  Way to go!  Women don't need men to protect them.  (Kristoff doesn't mind.  His personhood isn't threatened by a strong woman.  No, it's not because he's a "real man," it's because he seems to be a decent human.)  Kristoff eventually does kiss Anna, but only after getting permission.  The kiss is from their mutual agency.
Elsa remains without a love interest, furthering my inkling that she is a queer character.
Love between family members is what we need to unfreeze our cultural winter on LGBT issues.  I know for many parts of the U.S., this is beating a dead horse.  Being gay is culturally acceptable in many parts of the Northeast and West.  But here in the Bible Belt, we are still in the dead of winter.  There are so many gay sons and daughters who still have frozen relationships with their families.  Sure, we press on.  We do well for ourselves.  It's not as if we can't be successful and happy people until our families finally give a seal of approval.  But it would make life a lot sunnier for many LGBT people if silences within their families were broken and they could be who they are without fear or shame.  Love, true love, familial love, will melt our frozen hearts.